Our area offers us immense freedom of movement: Most landowners are happy for us to ride over their properties to access the high mountains or the vast plains or even our local tribal area for the "Village Ride". In summer there are rivers to forge and waterfalls to shower under. There are caves to see ancient bushman paintings. There is a Vulture Colony and of course there are mountains… everywhere!
Horses don't need paths – they cross all terrain without much effort. The horses of The Northern Horse Stables take on steep mountain slopes and boulder-filled river beds as we walk in a park!
One-Hour Trail Ride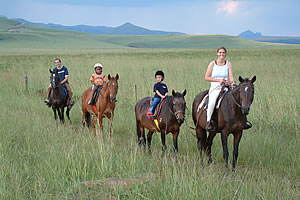 The standard 1 hour trail is an easy outing. It follows a clear path which all riders find comfortable. This trail is best suited to beginner riders. The longer riders (2, 3, 4, 6 hour outings) offer greater flexibility for riders looking for more than a stroll through the veldt. These excursions can take riders to higher elevations and into the wilder space.
1 hour trail – R350 per person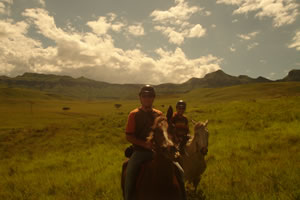 2 or 3 hour trails… R500 for 2 hours, R630 for 3 hours per person
The Half Day Ride (+-4 hours)… R750 per person
The Full Day Ride (+- 6 hours, includes lunch)… R1300 per person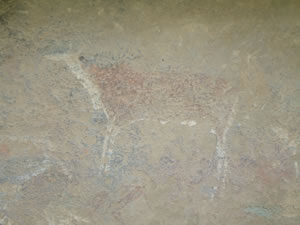 The Sunset Ride… R820 per person
The Sunset Ride leaves about 2 hours before sunset and follows a meandering trail with spectacular views through quiet valleys and restful plains to a beauty-spot in the veldt where a table has been set up with drinks of your choice and a gourmet snack platter. The atmosphere is peaceful and romantic and the light at this time of day is magical. Guests watch the sun setting behind the mountains of the Little Berg, while the Amphitheatre grows ever moodier. The ride home in the twilight is short and easy.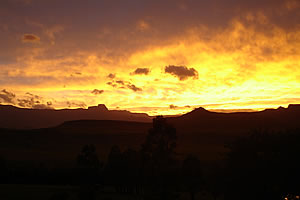 Overnight Rides… From R3250 per person per night.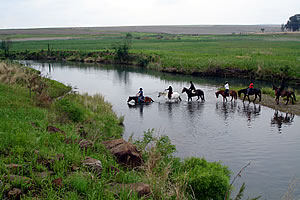 We offer a 1 or 2 night trail. The full days of riding are at least 6 hours in the saddle with a break for lunch at a beauty-spot along the way where sensitive bottoms enjoy a well-deserved reprieve with a swim in a river or dam. The trails wind their way over the vast plains of the Little Berg, and up steep ridges where breath-taking views abound. Visits to the Zulu Sangoma or Bushman Cave can be incorporated. Guests are accommodated in very comfortable, mountain accommodation with flushing toilets, running water and proper beds (with linen)! All food and drinks are provided.
These outings are designed around each booking so that the individual needs and interests of the rider are catered for. We pride ourselves on being flexible to each individual guest.
Overnight Trails are usually not available over a Friday or Saturday night, due to the lodges' 2-night-stay policy over weekends.
Prices include horses, 2 guides, accommodation, food, drinks and luggage transfers – From R3250 per person per night.
The Village Ride is a very special experience. Our Zulu guides take riders into their own village to visit a local Sangoma (traditional Healer). Along the way riders pass homes, soccer fields, community centres, schools, churches and sometimes witness traditional ceremonies. This is an organic experience: You see and feel a real day in the life of rural South Africa. This outing is restricted to a Full Day or Overnight Trail as it involves covering a long distance.